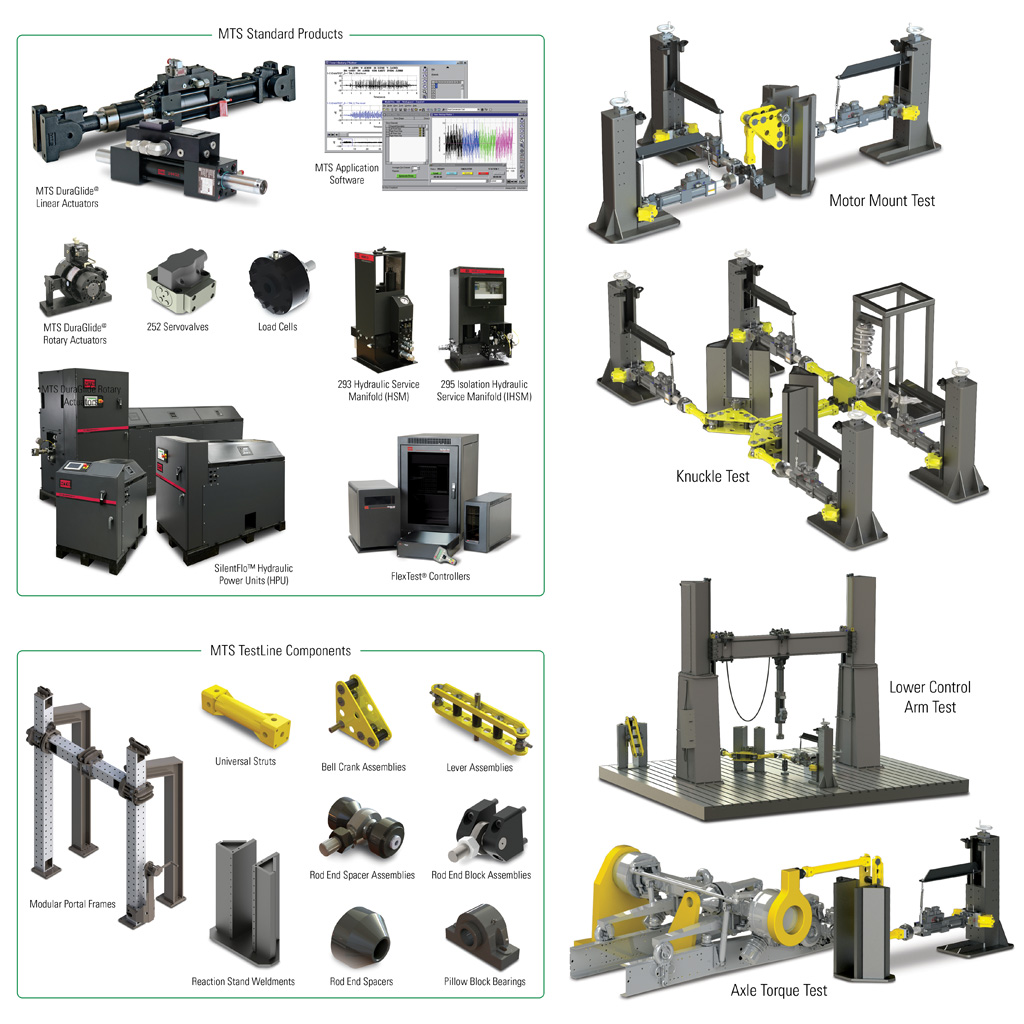 Automotive component suppliers face an array of global trends that are changing how they pursue testing and validation of their products. Principal among these is the rising complexity and interaction of components and active subsystems. This is driving changes in test requirements, and consequently, the evolution of testing technologies and methods.
Also significant is intensifying competition among component suppliers. Today's OEMs can be more selective, which effectively pushes product testing down the supply chain. Increasingly, OEMs are demanding that suppliers model their designs and provide test data that validates component quality and performance.
To help suppliers adapt to this evolving landscape and align with OEM requirements, MTS offers versatile TestLine load-bearing components and a full complement of standard MTS hardware and software products for creating cost-effective test systems that can be reconfigured as needs change. Precision-engineered to the highest quality and designed for seamless integration, these test system components are the same as those developed for the most advanced MTS custom and engineered-to-order systems, which are deployed worldwide by virtually all major OEMs.
MTS pioneered the laboratory-based testing technologies now critical for thriving in today's competitive automotive industry. As a result, MTS solutions are deployed by OEMs worldwide, generating high-fidelity data to inform all stages of vehicle development. Contact MTS today to explore how modular MTS components enable you to leverage these technologies to adapt to evolving component test requirements and better align with OEM demands.
Versatile Controllers & Application Software

---

FlexTest Controllers are deployed worldwide for multi-axial component, subsystem and structures testing. The modular FlexTest architecture features uniquely field-upgradeable processors, enabling labs to adapt easily to evolving test requirements and accommodate lab expansion.

RPC Connect Software equips test engineers with a leading-edge suite of simulation control, analysis and information management tools for accurately and efficiently reproducing field-measured road loads on laboratory-based component, subsystem and vehicle test rigs.

MultiPurpose TestWare (MPT) Software provides a comprehensive test design environment and industry-proven application tool set to conduct a full spectrum of testing, ranging from static uniaxial materials testing to highly dynamic, multiaxial component, subsystem and full vehicle testing.

MTS TestSuite Software

combines a powerful set of testing modules in a common, easy-to-use interface for conducting tensile, fatigue and fracture studies of materials, components and structures.

Reliable, Efficient & Safe Hydromechanical Solutions

---

MTS DuraGlide Linear Actuators are engineered for highly dynamic fatigue testing of components or substructures. Featuring MTS SureCoat Rod Finishing Technology, they deliver longer performance life, higher test fidelity and increased energy efficiency.

MTS DuraGlide Rotary Actuators deliver a wide range of dynamic torque with unmatched fidelity for testing materials, axles, couplings, drive shafts and other rotational components.

MTS Hydraulic Service Manifolds (HSMs) provide smooth, controlled transitions of hydraulic pressure between the HPU and test systems. The new Series 295 Isolation HSM meets Performance Level c (PLc) requirements for human safety and readily incorporates MTS Safeguard™ Technology to meet to PLd and PLe.

Modular, High-stiffness Load Bearing Components

---

TestLine load-bearing components feature high stiffness, lightweight designs, making them ideal for higher test frequencies and fatigue-rated applications. Multiple connecting points on levers, bell cranks and portal frames facilitate flexible and easy mounting of test rig components in unlimited configurations.