Seismic Simulators (Shake Tables)
Seismic Simulators (Shake Tables)
The MTS seismic simulator portfolio features a host of standard, pre-engineered and custom tables for evaluating everything from nonstructural infrastructure to structural components and substructures to model-scale and full-scale civil structures. Precise seismic loading in up to six degrees-of-freedom can be applied to a broad array of test articles to evaluate their behavior under real-world earthquake conditions.
Applications
Seismic Simulation
Seismic Qualification
Test Specimens
Civil Structures
Substructures
Components
Test Standards
AC156 Earthquake Qualification Testing
Key Product Features
First-of-a-Kind
MTS has designed, installed and partnered with our customers on many of the world's largest shake tables, including NIED, University of California - San Diego and Southwest Jiaotong University
Industry Standard
MTS has the largest world-wide installed base of seismic simulators. We have five decades of collaboration with the world's premier civil engineering research institutions
Unmatched Expertise
PhD-level MTS System Integration Engineers provide expert guidance and training
Innovative Technology
Degree-of-Freedom Control, Real-time Control, Three-variable Control, Adaptive Control and Specimen Dynamics Compensation (SDC)
Model Comparison
1.5m Uni-axial Table
Perform basic seismic research on scaled down structures
Quick Installation and integration into existing labs
Playback of scaled earthquake time history files
Lower cost, entry-level option
3m Uni- & Bi-axial Tables
Perform fundamental seismic research, up to 10 ton specimens can be tested
Uniaxial and Biaxial variants available
Can be pit mounted or come equipped with actuator buttresses
Large displacement range (500 mm) to simulate realistic ground motions
4m & 5m 6DOF Tables
Perform full six degree of freedom seismic shaking
Larger specimens (up to 40 ton payloads)
Best suited for researchers looking for unique seismic performance
Pre-engineered table offers faster lead time and lower cost when compared to custom designed tables.
Custom Seismic Tables
Perform complete/full-scale seismic research, MTS can design any size table and payload requirements per your specification
6 DOF or multiple tables working together
MTS has the largest installed base of custom seismic simulators
2m x 2m Multi-Axial Simulation Table
Perform seismic qualification testing of components (AC156)

6 DOF using "hexapod" design

Up to 2,000 kg payload

Up to 100 Hz control bandwidth
Technical Overview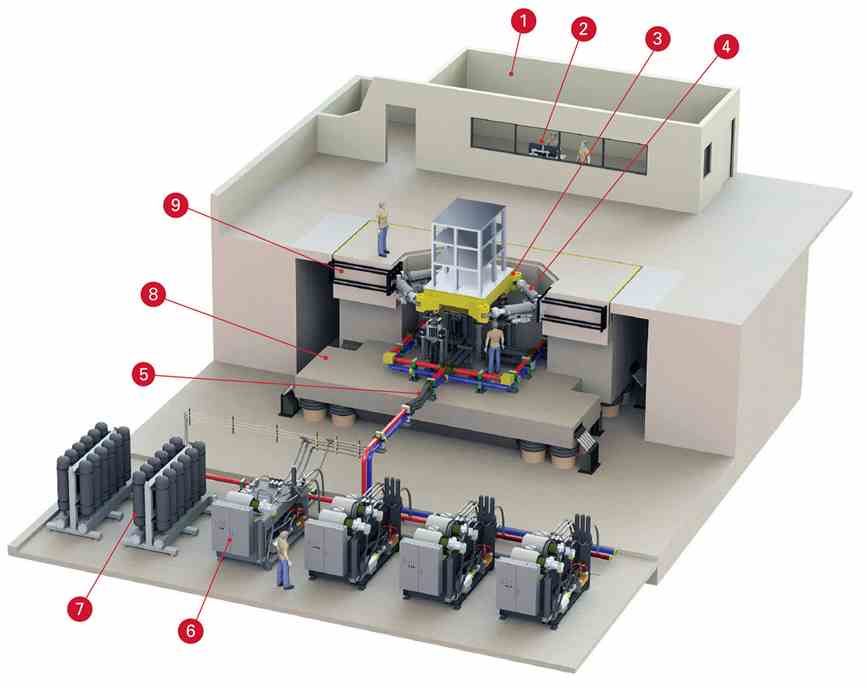 Control Room
User Interface (STEX Pro Software)
Steel Table
Seismic Actuators
Hardline Piping
Hydraulic Power Units (HPUs)
Accumulator Bank
Seismic Reaction Mass
Actuator Fixturing
Get The Most Out Of Your Investment
Our experts are here to help keep you up and running.
Related Products, Parts or Accessories
CONTACT AN MTS REP TODAY
Ready for a quote or need more information? We have applications engineers ready to help.
Request A Quote