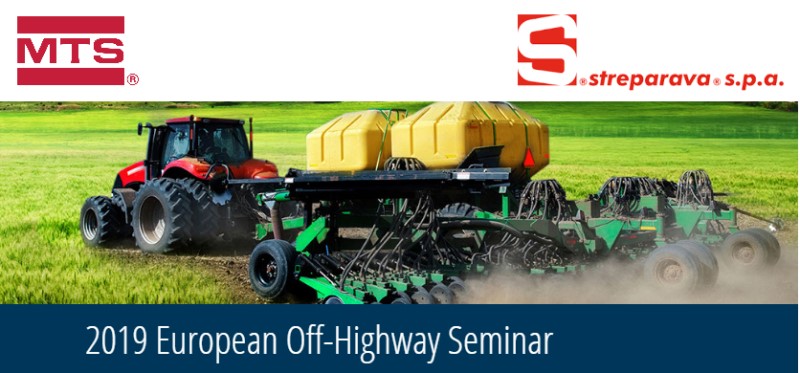 On 26-27 June 2019, Streparava, S.p.A. and MTS Systems hosted a panel of industry testing experts to explore the technologies and methods used to evaluate the performance, durability and safety of agricultural, construction and forestry equipment and related components.
View the recorded seminar presentations below:
---
Laboratory Evaluation of Operator Seat Vibration - Christian Preti, Istituto per le Macchine Agricole e Movimento Terra Imamoter
---
Inertial Test Bench for Agricultural Machinery - Daniel Sandner, Kuhn
---
Safety of Agricultural Tractors:Simplified Method for Measuring Vibrations - Maurizio Cutini, Crea
---
Mechanical Toys for Off-Highway Testing - Steven Haeg, MTS Systems.
---
Fatigue Behavior of Additive Manufactured Parts - Matteo Ferretti, Pontlab and UniPisa.
---
Design and Validation of an Independent Front Suspension for Vineyard and Orchards Vehicles - Francesco Galli, Same Tractors; Michele Orizio, Streparava.
---
Correlation Study Between Structural FEA, Casting Simulations and Experimental Results - Silvia Cecchel, Streparava.
---
Laboratory Planning: Electrical Power, Cooling, Hydraulic Distribution - Steven Haeg, MTS Systems
---
Component Testing - Paolo Iodice, MTS Systems
---
Configuration of a Test Stand - Dr. Florian Finck, MTS Systems
---
Road data acquisition and Road Simulator test bench with MTS SWIFT - Fabio Cibolini, Streparava
---
How to Bring the Field into the Laboratory - Accelerate Your Testing - Dr. Florian Finck, MTS Systems
---