---
New testing capabilities at the National Tire Research Center (NTRC) redefine the possibilities for tire design and virtual vehicle development
---
The automotive industry is undergoing unprecedented regulatory change, and this new reality is driving intense demand for breakthrough tire designs optimized for both safety and fuel economy. To meet the need, OEMs require testing technology that is equally revolutionary.
This is why the directors of the National Tire Research Center (NTRC) in Alton, Virginia, which will open in January 2013, expect the facility to become the new center of the tire testing universe.
Equipped with the talent and tools OEMs need to quickly and accurately optimize vehicle and tire designs in remarkable new ways, the NTRC will offer an exclusive experience that could rewrite the rules of tire testing and virtual vehicle development.
"The closest thing to compare it to is when we went from bias to radial," says Jonathan Darab, operations director for the NTRC. "It was just a huge leap, in terms of the technology used to produce the tires and the performance of the tires themselves. That's how I see our capabilities."
When done with a high degree of accuracy and repeatability, virtual vehicle development is one of the most critical tools OEMs can use to design safe, high-performing, fuel-efficient vehicles and bring them to market quickly. The catch, however, is that the laboratory equipment must be able to replicate a wide variety of operating conditions and driving events. As vehicle designs become more complex, this becomes considerably more challenging.
One of the best examples of this effect is Federal Motor Vehicle Safety Standard (FMVSS) No. 126, which will require all passenger cars, multipurpose passenger vehicles and trucks with a gross vehicle weight rating of 10,000 pounds or less to be equipped with an electronic stability control (ESC) system by 2013. The FMVSS 126 test requires the replication of a specific driving event: the double lane change that occurs when a driver swerves in one direction to avoid a collision, then swerves back to right the vehicle — a frequent cause of rollovers.
"Right now, there is not a tire testing system that can accurately replicate the 126 maneuver in the lab," Darab says. "To make sure new designs pass the test, vehicle OEMs and tire manufacturers must extrapolate data based on other similar events. So, instead of having 95% confidence a new model will pass, they are more like 80% confident."
This compromise requires OEMs to tune the vehicle differently to avoid specific frequency thresholds, as well as supplement virtual development with time-consuming, expensive physical testing. Of course, if an OEM product fails the FMVSS 126 test after the vehicle is in production, there are big fines to complement what would surely be a public relations nightmare.
Soon, however, OEMs will have a new way to solve this problem: by visiting the NTRC and booking time on a new tire testing system designed and developed by MTS Systems Corporation, headquartered in Eden Prairie, Minnesota.
The NTRC will offer a complete range of advanced tire testing in support of research and development by global vehicle and tire manufacturers. It is fully owned and operated by Virginia Tech (VT), and is closely associated with the Southern Virginia Vehicle Motion Laboratory (SoVa Motion), a VT research facility that is dedicated to enabling virtual vehicle development through innovative testing techniques.
Because it aims to be the most comprehensive and capable facility of its kind, the NTRC wants to provide tire testing capabilities that OEMs cannot find anywhere else in the USA or even the world.
This led the NTRC to work with MTS, maker of Flat-Trac Tire Test Systems, which have been the industry standard for flat surface force and moment measurement for more than 30 years. After collaborating with the NTRC about requirements, MTS developed the Flat-Trac LTRe, a tire testing system that delivers an exclusive array of capabilities designed to support advanced virtual development.
"The specifications of the machine were chosen to replicate all the driving maneuvers that a passenger car or light truck tire will see in the real world, including the 126 maneuver," Darab says. "That's why we insisted on 90°/sec slip and 38°/sec camber angles, among other things. We wanted to make sure that 95% of OEM products could be tested on this machine."
What will make the Flat-Trac LTRe different is an MTS-designed electric permanent magnet motor that serves as the system's spindle torque drive. This motor will deliver the high power density and ultra-high performance bandwidth necessary to apply driving and braking torque at full roadway speeds, under very high physical loads in all three force directions. The end result is a system that will give OEMs and tire manufacturers the ability to test a much wider range of tire designs up to and beyond their physical limits.
The system will also feature a specialized water bearing that keeps the roadway belt flat throughout the entire speed and load range of the system, and a second electric motor that runs the roadway up to 200mph — fast enough to replicate motorsport cornering maneuvers.
No other system in the world provides the LTRe's full spectrum of dynamic testing capabilities, from the dynamic positioning rates to the maximum force capacity to the application of torque.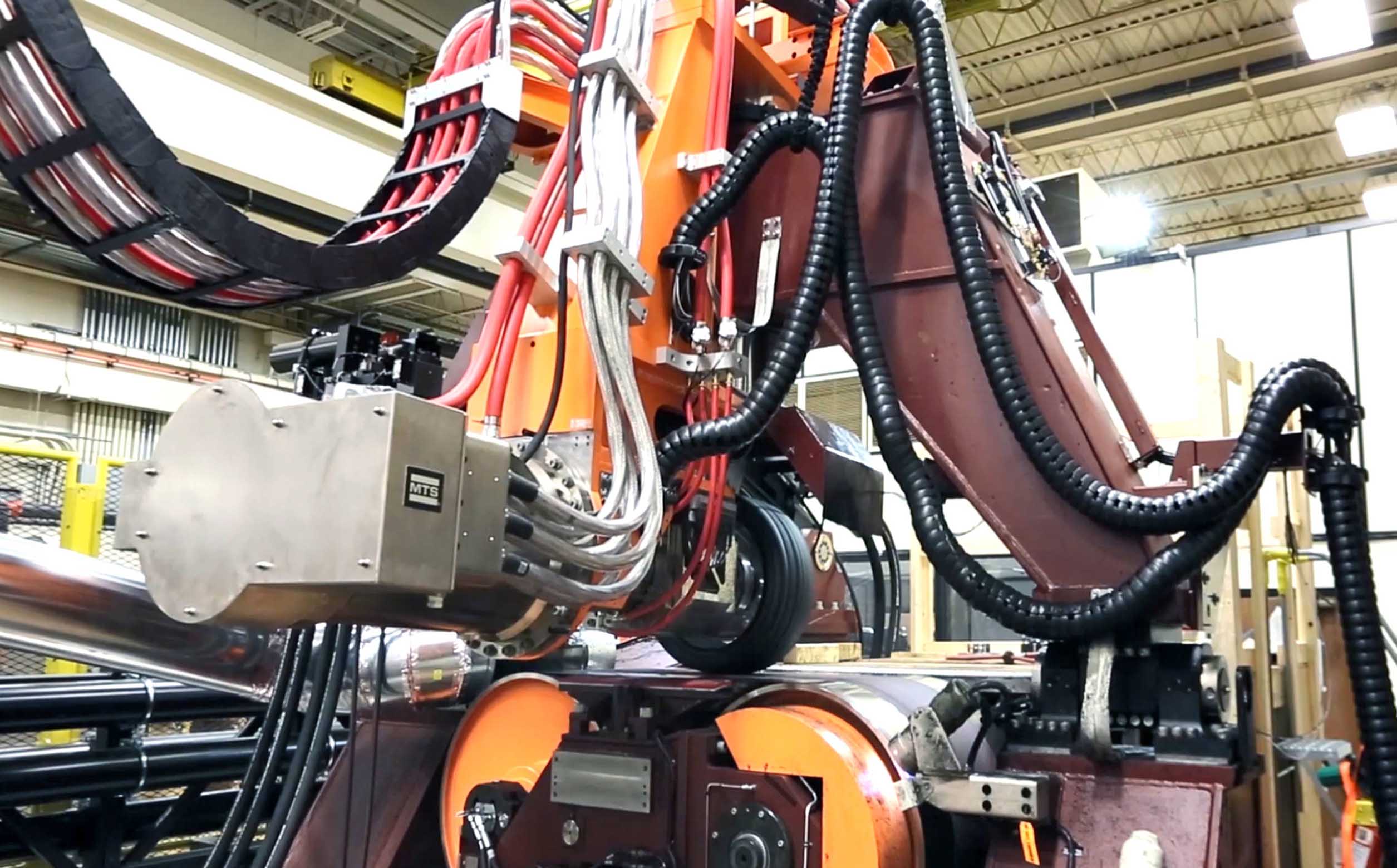 "We're creating a whole new genre of testing," says Frank Della Pia, executive director for the NTRC. "There will not be a peer facility for the NTRC. When you add up all the capabilities the NTRC has to offer, it's going to be atransformational leap in tire technology."
The NTRC will allow tire testing in conditions not previously possible in a laboratory environment. This will create opportunities to test tires in new ways and examine tire interactions with other components and subsystems using hybrid simulation. Also known as hardware-in-the-loop (HIL) testing, hybrid simulation involves the LTRe system running in tandem with a full vehicle computer model. The virtual vehicle executes a maneuver, which the LTRe replicates on an actual tire, and the tire's response is fed back into the model to make the simulation more accurate.
"When OEM test teams come to the NTRC, they will be able to test a single tire instead of instrumenting an entire vehicle," Darab says. "They will be able to run thousands of simulations in two days, instead of spending those same two days running a single test with a potential error rate of 20%."
These capabilities fall in line with the mission of the NTRC, whose test experts are pushing tire testing into uncharted territory — to the point where the accuracy and repeatability of tire testing and modeling redefine what it is possible to achieve through virtual vehicle development.