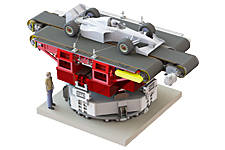 The Research Institute of Automotive Engineering and Vehicle Engines in Stuttgart, Germany (Forschungsinstitut für Kraftfahrwesen und Fahrzeugmotoren Stuttgart, or FKFS) is an independent research and development lab serving the global automotive industry. FKFS offers highly specialized testing systems, including FKFS first™, or "fully interchangeable road simulation technology," a modular, three- and five-belt rolling road test system in a wind tunnel.

This extremely complex test system involves more than 100 channels and is highly sought after by vehicle manufacturers. Pressure to maintain high uptime is intense. However, the complexity of the system makes it very difficult to reach various components, whether to perform regular maintenance or address potential issues.

These factors made the system an ideal candidate for MTS Echo Health Monitoring, a real-time, remote monitoring solution that can be accessed anywhere by any web-enabled device. These capabilities convinced decision-makers at the lab to install MTS Echo on the FKFS first system.

With the patent-pending MTS Echo solution, FKFS lab personnel can check the health of the entire system at a glance through a clean, intuitive visual interface. The most important metric for FKFS is the temperature of each bearing, which must stay within a well-defined range or risk damaging the system. Since installing MTS Echo Health Monitoring, the lab has run the FKFS first system for approximately 2,000 hours and experienced no problems with the bearings.

The lab also uses MTS Echo Health Monitoring to keep track of oil pressure and quality and many other aspects of the hydraulic distribution system. This visibility to system parameters allows them to balance maintenance needs with customer test schedules more effectively. MTS Echo software also lets test operators set alerts for specific situations. In one instance, an alert about rising oil temperatures helped the test engineers detect, diagnose and resolve a problem with the cooling water before the test system—or the test article—was damaged.

Contact MTS today to learn how MTS Echo Health Monitoring can bring the advantages of real-time, remote monitoring to your testing program.