---
Maintaining the safety and integrity of valuable aerospace test articles throughout structural testing is critical. The latest version of AeroPro software includes a new Pinning Mode feature to protect these specimens when attaching hydraulic actuators during static and fatigue testing setup.
---
Bob Tieman - Senior System Integration Engineer demonstrates Pinning Mode, a new test article safety feature in AeroPro Software. Pinning Mode switches a test actuator from displacement to force control when contact with a test article approaches pre-set force thresholds. Exceeding these thresholds causes the actuator to retract immediately from the test article or stop hydraulics completely.
---

Introduced in AeroPro 7.40, Pinning Mode provides test engineers an interface for setting the various displacement and force parameters used to achieve precise control of test actuator movement when approaching and contacting a test article during test setup.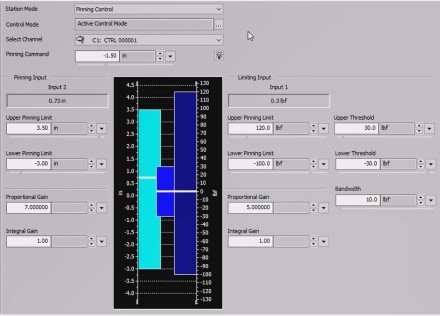 Pinning Input (left bar) indicates actuator displacement range
Pinning Threshold (center bar) sets force that triggers actuator retraction and hydraulics shutoff
Pinning Limit (right bar) indicates actuator upper and lower force limits