---
Expanded AeroPro data integration capabilities help test engineers efficiently glean more information from complex aerospace structural tests
---
Mike Arens - AeroPro Software Development Team Lead demonstrates new data integration functionality in AeroPro software that enables easy, seamless streaming together of signals from EtherCAT devices, FlexTest controllers, and MTS FlexDAC 20 units into a single, unified test management interface.


---

Introduced in AeroPro 7.50, new data integration capabilities allow test engineers to quickly and efficiently introduce high-performance EtherCAT data acquisition devices into complex structural test setups.
EtherCAT hardware appears in the AeroPro Test Manager like other data acquisition platforms, enabling test engineers to set dimensions, units, scale, and rates, and perform calibration.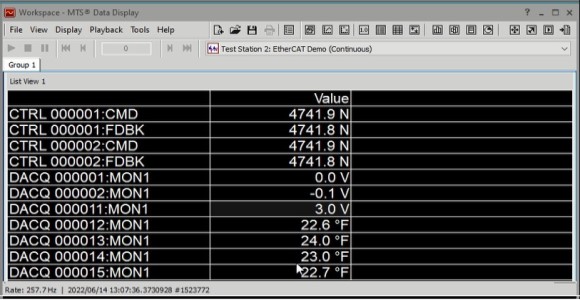 This MTS Data Display shows an integrated stream of FlexTest controller command and feedback (rows 1-4), MTS FlexDAC 20 signals (rows 5-6), and EtherCAT high level input and thermocouple signals (rows 7-11).