---
Electric and autonomous vehicles are driving an intensified focus on occupant ride comfort, prompting increased global need for human-rated, 6DOF vibration simulation capabilities. To help OEMs and suppliers meet these evolving demands with optimal efficiency, the new 353.20 DM (Dual Mode) MAST System delivers an expanded application range that includes both high-performance durability and NVH testing of components and sub-systems, and safe, compliant occupants-on-the-table ride comfort evaluation.
---
Charlie Groepper - Senior Systems Engineer explores how the new 353.20DM MAST integrates advanced MTS Safety PLC technology, new hydromechanical manifolds, an array of human interfaces, and test space monitoring devices to enable safe and efficient switching between full-performance durability and NVH testing and reduced-performance ride comfort evaluation with up to two human occupants riding on the table.
---

Available via turnkey system or 353.20 field upgrade, MTS Dual Mode MAST technology is purpose-engineered for conducting human-rated vibration simulation that complies fully with ISO 13090-1 and ISO 2631-1.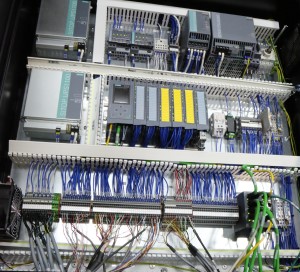 An Advanced MTS Safety PLC (Programmable Logic Controller) directs all MAST system safety functions, managing and monitoring control valves, position switches, pressure switches, E-stops, human interfaces, and monitoring devices.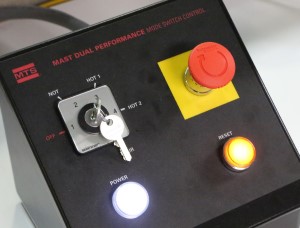 The Keyed Dual-Mode Switch maintains safe and secure control of system performance. Selectable modes include: (OFF) no power, lockout; (NOT) nothing on table, human drive file iterations; (HOT 1) one human rider; (HOT 2) two human riders; and (DUR) Durability.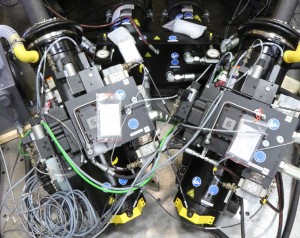 New Hydromechanical Manifolds include an Integrated MAST Control Manifold that isolates specimens during installation and meets E-Stop requirements, and six Actuator Control Manifolds that support E-Stop functionality and installation into environmental or NVH chambers.
Human Interface & Monitoring Devices include a light tree (with audio horn) to ensure system status awareness, hand-held pendants and switches that enable human riders to stop system operation, proximity and seat belt switches, and vibration exposure monitors.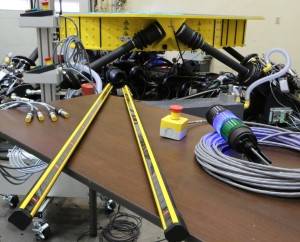 Site Safety Devices include safety rails and gates, and a light curtain to prevent human riders and test lab personnel from breaching the hazard zone between the MAST table and pit covers during system operation.