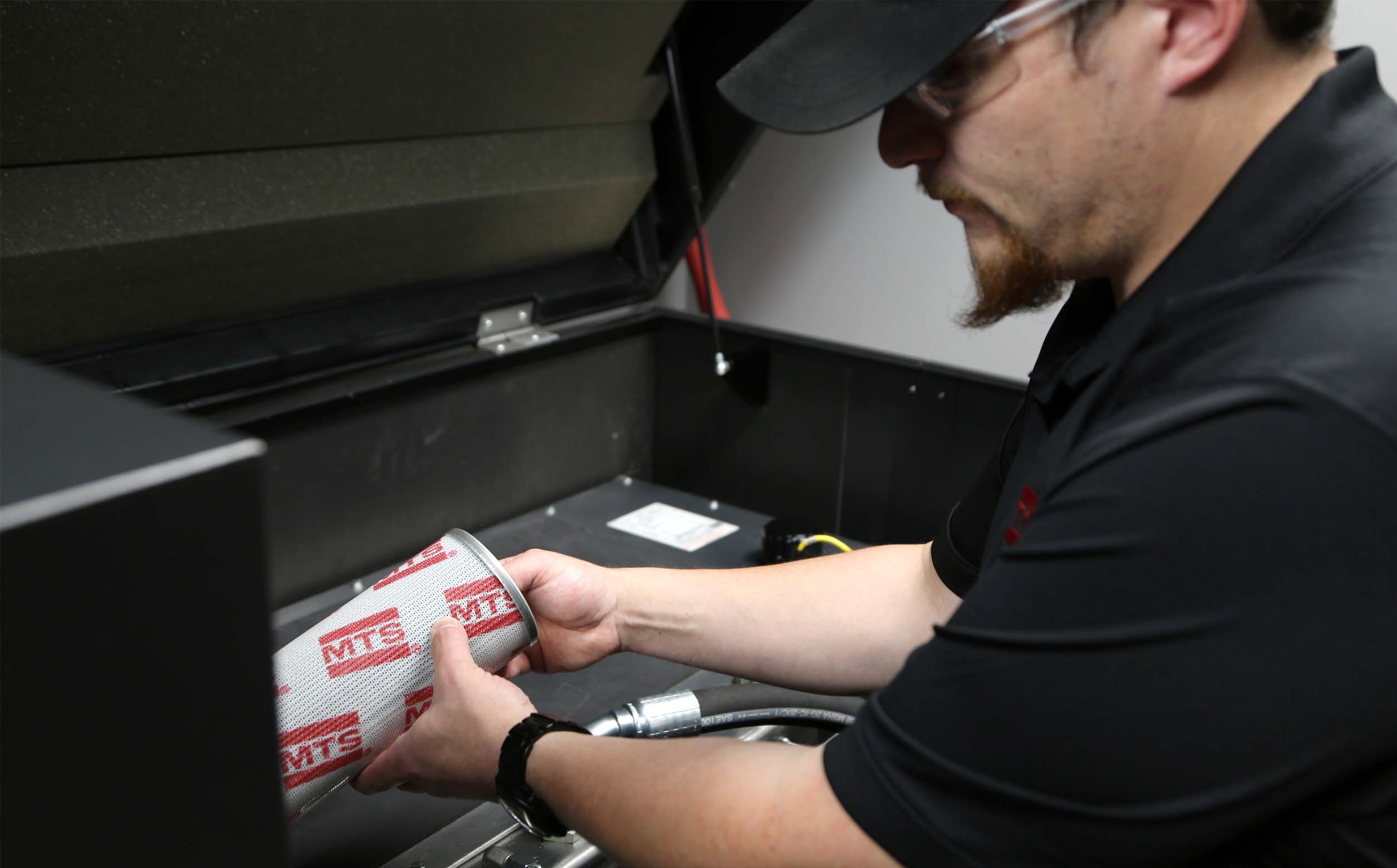 Your hydraulic power unit (HPU) is probably one of the most important pieces of equipment in your lab. If it goes down or performs inefficiently, your whole test program suffers. That's why MTS offers many ways to maximize HPU uptime and performance so you can continue to focus on your testing.
Diagnostic & Preventive Care

HPU Routine Maintenance
Your MTS Field Service Engineer will check pump hours, operating temperature, accumulator pressure, observable fluid condition, hose condition, cable connections and filter status.

MTS Fluid Care Program
These comprehensive hydraulic fluid assessments with parameters based upon stringent standards for testing environments are designed to detect issues at an early stage.




HPU Health Check
A health check is a great starting point if you haven't been doing routine maintenance or fluid care. If your HPU is more than five years old, it is even more important to conduct an HPU health check to assess its current performance.

HPU Health Monitoring
As one of the fastest ways to detect potential issues, this real-time remote monitoring service is critical to maintaining uptime, especially if you are relying on a single large HPU in your facility.



Operational & Energy Efficiencies




HPU Upgrades
An upgrade is highly recommended if you have an HPU that is more than 15 years old. First generation SilentFlo™ 505s were designed in 1998 and contain electronics from that era that should be replaced.

Replacement or Additional Modules
For all 505 HPUs, replacing the pump/motor modules with the newer SilentFlo 515 modules will extend the life of the HPU and reduce energy consumption by up to 10%. Also, if you have empty module bays available in your larger 505 or 515 HPU, you can increase your capacity by adding new modules.

Managing Multiple HPUs
If you have multiple HPUs commoned within the same hydraulic distribution system, a Multi-Pump Control Manager can allow you to manage and distribute operating power to reduce overall system wear and manage resources efficiently.