Flat-Trac Dynamometer Roadway
Apply driver and longitudinal inputs within a repeatable and controlled environment to evaluate the efficiency, performance and durability characteristics of a vehicle drive train while operating on a straight, smooth road. Data generated by this system can be used for meeting WLTP (Worldwide-harmonized Light Vehicle Test Procedures) requirements as well as powertrain tuning for traditional ICE or EV applications.
Applications
Energy Consumption
Powertrain Rolling Loss Measurement
Coast-down Measurement
Drivability
Powertrain Tuning
Test Specimens
Passenger Cars and SUVs
Light Trucks
Test Standards
Worldwide Harmonized Light Vehicle Test Procedure
Key Product Features
Innovative Technology
MTS Flat-Trac moving belt technology accommodates spinning tires to create a high-fidelity, real-world vehicle-to-road interface.
Accurate / Repeatable Results
Provides the vehicle-to-road interface accuracy needed to discern extremely fine changes in rolling loss from one design iteration to the next
Efficient Operation
Far more accommodating of high-throughput testing requirements than conventional roller dyno solutions
Versatile
Accommodates any vehicle by varying track width, wheelbase, type of positioning, power density and bearing type
Technical Overview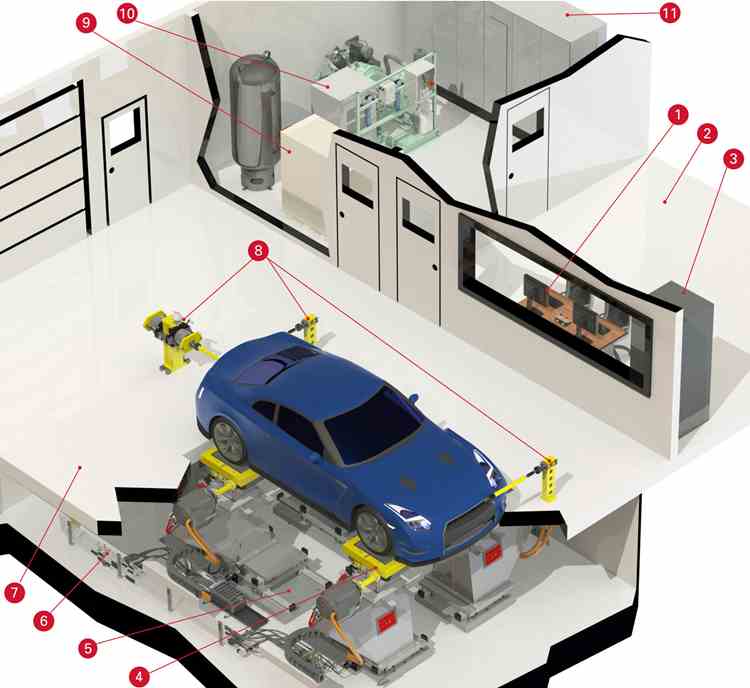 System User Interface
System Control Room
System Controller
Dynamometer Roadway (Dyno) System Corner (x4)
Trackwidth & Wheelbase Positioning system
Utility Distribution System
Pit Cover Assembly (Option)
3-link Restraint System
Chiller System
Air Bearing Supply System
Motor Drive Cabinet
Service and Support
Our experts are here to help keep you up and running.
Related Products, Parts or Accessories
Contact An MTS Rep Today
Ready for a quote or need more information? We're here to help.
Request a quote
Resources
Microsite
Vehicle Dynamics Showcase Lab
Higher Fidelity - Deeper Insight - Faster Development