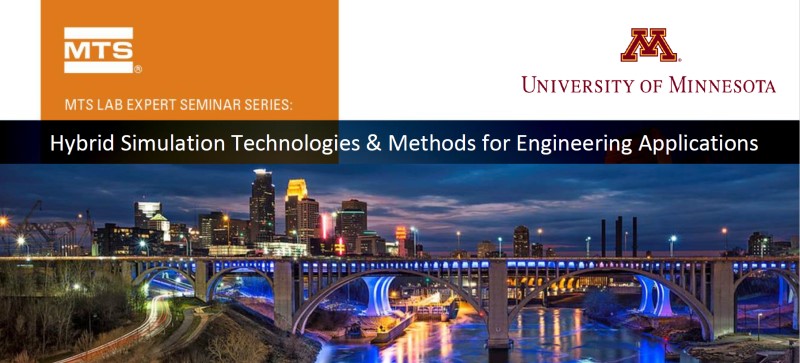 On September 13, 2018, MTS Systems and the University of Minnesota staged a comprehensive, one-day seminar on hybrid simulation technologies and methods for engineering applications at the UMN MAST Laboratory in Minneapolis, Minnesota. Guided by thought leaders from Minnesota, Purdue University, PEER at University of California Berkeley and MTS Systems, seminar attendees explored the tools, techniques and best practices required for pursuing safe, meaningful and productive Pseudo-dynamic and Real-time hybrid simulation investigations.
View the recorded presentations below:
---
Professor Arturo Shultz, Director of the UMN MAST Lab, and Paul Bergson, Research Fellow UMN Structures Lab, introduce the capabilities at the University of Minnesota. Learn more about the unique Multi-Axial Subassemblage Testing (MAST) System and how it uses the Hybrid Simulation methods.
---
Professor Shirley Dyke, Director of the Intelligent Infrastructure Systems Lab, reviews the history and benefits of Real-Time Hybrid Simulation including its use in Multi-Hazard Engineering and examples from Purdue University and Lehigh University.
---
Dr. Shawn You, Senior Systems Integration Engineer at MTS, provides a detailed introduction of hybrid simulation including an overview of software and hardware requirements. Follow along as Shawn explains how MTS equipment is being utilized for Hybrid Simulation testing at key facilities such as Swinburne University, UC Berkeley, Tongji University, Ecole Poly Technique Montreal and more.
---
Dr. Shawn Gao, Senior Systems Integration Engineer at MTS, reviews virtual testing techniques and how it can be applied to real-time hybrid simulation.
---
Professor Khalid Mosalam, Director of the Pacific Earthquake Engineering Research (PEER) Center at UC Berkeley, discusses the history of hybrid simulation and looks at 6 unique applications that utilize hybrid simulation techniques.
---
Dr. Shawn You, Senior Systems Integration Engineer at MTS, presents new hybrid simulation tools for Automotive, Aerospace and Wind Energy applications.
---
Professor Sri Sritharan, Assistant Dean and Wilkinson Chair, College of Engineering at Iowa State University, utilizes hybrid simulation for testing tall wind turbine towers.
---
Zorica Radakovic-Guzina, Senior Engineer Itasca Corporation, reviews soil foundation structure interaction and hybrid testing of soil properties.
---
Brad Thoen, Senior Staff Engineer at MTS Systems, presents advanced seismic control technologies including degree of freedom control, three variable control and specimen dynamics compensation.
---