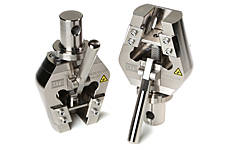 The quality of the fixture/specimen interface is integral to the accuracy and the repeatability of results. To help materials researchers find the right grip for a wide range of tests, MTS provides a full portfolio of grips—including durable, affordable grips specifically designed to test plastics and rubber.

Tensile Testing for Moulding and Extrusion Plastics
The ISO 527-2 and ASTM D638 test methods measure the force required to pull a specimen to its breaking point, enabling product design engineers and quality managers to accurately predict product performance in end-use applications. MTS grips are designed to secure the specimen and prevent slipping without inducing stresses that can lead to misleading failures. Grip choices for testing plastics include:

•Pneumatic vise grips. These commonly used, low-effort grips offer a
variety of faces as well as larger specimen openings for universal testing.
They are designed for fast, easy operation.

•Manual wedge grips. Able to handle many types of plastic, these
versatile grips are ideal for thicker specimens. Interchangeable
faces help accommodate plastics of varying thickness or fragility.

• Screw action grips. Many faces, sizes and profiles are available for
these economical manual grips. The large specimen opening is suitable
for a variety of tests.

•Manual vise grips. The best choice for thin specimens, these simple,
cost-effective manual grips can be paired with a smaller selection of
grip faces.

Tensile Testing of Vulcanized Rubber and Thermoplastic Elastomers
The ASTM D412 standard is particularly useful for these compounds, which are among the most complex and popular materials for applications in which both elasticity during stretching and recoil upon release are required. These rubber compounds range from simple plasticized PVC used in toys to specialty elastomers for aerospace applications. Grip choices for testing rubber include:
•Pneumatic vise grips. These low-effort grips are a popular option for
rubber tests. They provide a constant gripping force that prevents slippage
as well as fast and easy operation.

•Manual wedge grips. Ideal for thicker specimens, these grips feature a self-locking angle specifically for holding rubber in place as well as interchangeable faces for many different applications.

•Roller grips. The smooth rubber face and compression bar work best
with thin films. Quick and easy to set up, these grips also feature
diamond tip faces to accommodate thicker specimens.

•Scissors grips. These self-tightening grips are the right choice for
oddly shaped, non-uniform or thicker specimens.

All of these grips can be paired with MTS Criterion® Electromechanical Universal Test Systems and MTS Exceed® Electromechanical Universal Test Systems. In addition, MTS offers an extensive selection of load frames and grips for dynamic testing. Contact MTS today to find the right grips for your test program.