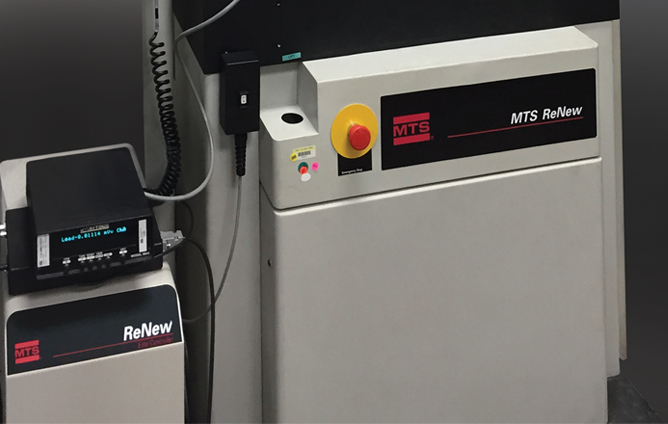 Almost every test lab has some sitting in the corner—you know, the older materials test systems or UTMs that no one wants to use because they are too slow and cumbersome, or too outdated to work at all. What if you could revive these idle systems so they could become a functional part of your lab again?
Economical Way to Add Testing Capacity
Now you can revitalize your older test system with an MTS ReNew upgrade that replaces outdated controls with the interface, software, and electronics you need for optimum test data collection and analysis. MTS can update a wide variety of electromechanical load frames from MTS and other manufacturers, allowing you to benefit from the latest in MTS controls and software innovation while maximizing your current testing assets.
Easily Integrate Fixtures & Accessories
By using connectors that are compatible with your system, you can continue to use existing accessories or add other MTS accessories. You can also have MTS integrate third party accessories, components or subsystems or build custom test fixtures or accessories for either old or new load frames.
Protect Productivity & Uptime
Don't let seldom or never used equipment slow down your testing. An MTS ReNew upgrade offers a cost-effective way to improve the performance of your existing test systems and increase the productivity of your lab.
Contact Us Today
Our engineers have extensive materials testing knowledge and will work with you to bring you the best return on your upgrade investment.
Tell Us About Your Upgrade Needs