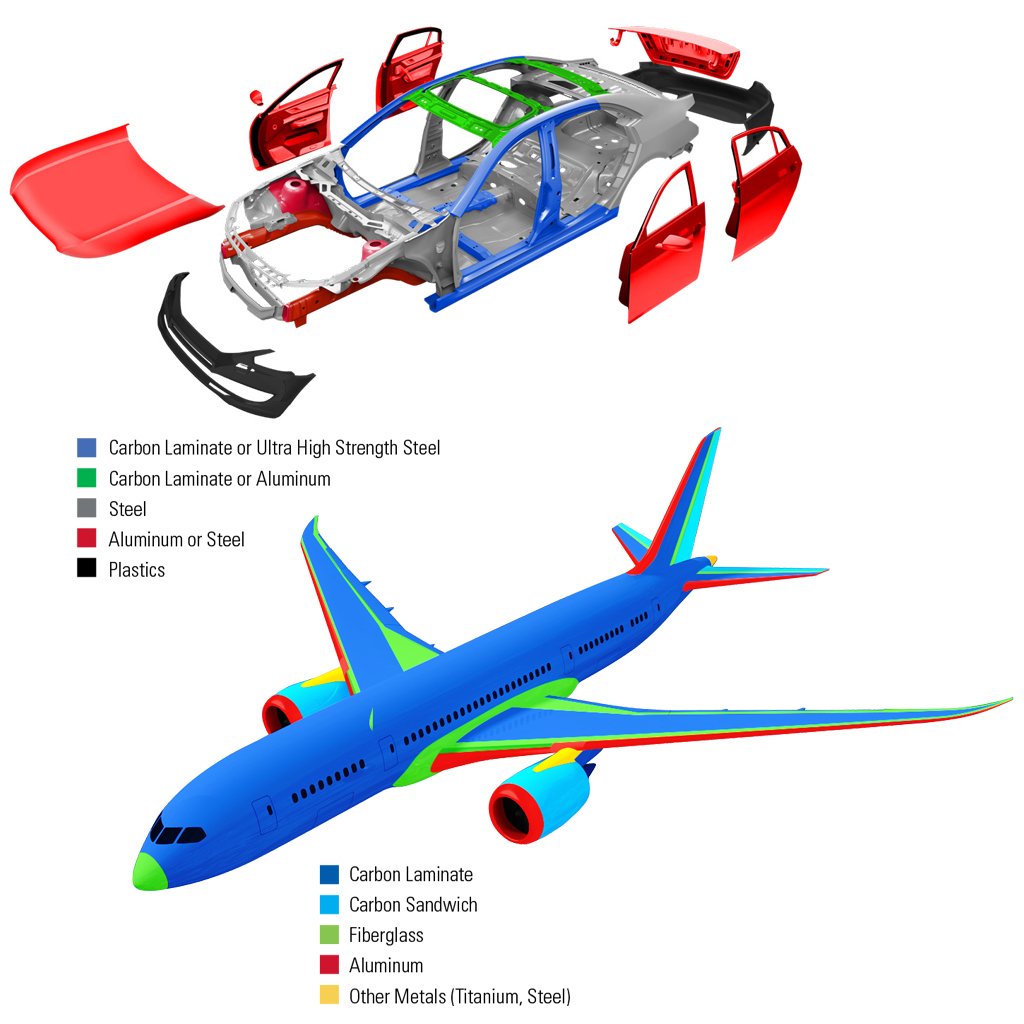 In almost every industry, advanced lightweight composite materials are improving product design and creating sleeker and safer solutions. In the pursuit of more fuel-efficient cars, lighter aircraft, more durable biomaterials and stronger load-carrying structures, the search for better materials continues. As a result, the quest for more sophisticated materials testing to develop complex material and component models becomes more and more imperative. Composites tests demand greater fidelity, more detailed measurement techniques, tighter integration with computer models and the ingenuity to deal with new materials and applications.
MTS COMPOSITES TESTING ADVANTAGES
Applications Knowledge
In addition to meeting international testing standards, many labs need to run new tests that have never been performed. New materials require new ways of looking at testing. MTS material scientists and systems integration engineers understand how to test to established standards and how to achieve reliable results with new test setups.
Adaptable Software
Industry-leading MTS TestSuite™ Software provides a powerful yet intuitive platform for everything from sophisticated R&D investigation to routine quality control tests based on international standards. Create complex test templates and data analysis output for R&D or automate procedures to minimize errors and increase throughput in QA/QC tests.
Comprehensive Portfolio
Effective validation of complex models for anisotropic materials requires realistic simulation of diverse operating environments. With testing options ranging from static to dynamic; low- to high-force; uniaxial to multiaxial technologies; and accessories for use in ambient and non-ambient conditions; MTS can address a wide variety of composite materials testing applications.
High-Temperature Expertise
MTS engineers understand the nuances of high-temperature testing of composites up to 1500°C and work with researchers across the globe to develop accurate measurement techniques using grips, furnaces and extensometers designed for high-temperature applications.
MTS' composite materials testing solutions are well-developed and designed to help QC and R&D labs in the evaluation of material properties for plastics, polymer matrix composites and adhesives. Contact us today to learn more about solutions for your specific application.